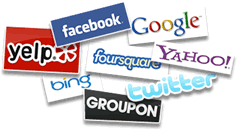 Your guide to everything digital for your restaurant!
From Twitter to Facebook to iPhones everywhere and the takeover of the mobile web...
A whole generation of customers and in fact, customers across all generations, are using the web, social media and mobile devices to consume & share info about restaurants.
Make sure you're part of the conversation...
Here at RestaurantWebGuy.com we'll keep you plugged into the latest trends via articles multimedia & more.
There's quite a library already on the site with new content posted regularly.
Cheers!
- Jaime
---